Situated centrally in Kampen, we are perfectly placed to supply compostable paper straws to local brands in the Netherlands and further afield. Yet, our work goes beyond the straws. With our unique paper straw machines, we provide companies with the technology to become manufacturers of sustainable straws themselves.
Now's the time to make the change from plastic straws to a biodegradable alternative. Get in touch to buy paper straws in bulk – or upgrade your production line to manufacture your own eco-friendly paper straws.
Dutch Consumers Want an Alternative to Plastic Straws
Across the world, the tide is turning against single-use plastics. Throughout Europe and North America, over half of consumers believe plastic to be 'harmful', while two thirds associate plastic with ocean litter and pollution. Here in the Netherlands, over 90% agree that more measures are needed to tackle single-use plastics.  
Governments are already paying heed to these changes in public attitude. The EU's directive restricting single-use plastics came into effect in July 2021. With the Dutch government's pledge to cut 20% of plastic consumption by 2025, it's time for businesses to act.
At Tembo Paper, our unique expertise can help your firm stay ahead of the curve and remain compliant with the new rules.
Wholesale Paper Straws that Work
We are a paper straw manufacturer that does things differently. Our methods and materials guarantee the highest standards from every single straw. Yet, there's more. By developing the technology of our paper straw machines ourselves, we can ensure each straw meets every client's unique demands.
3-ply straws with less than 4% adhesive

. Our design combines an optimal user experience with the smallest ecological impact possible.

The largest range of straw diameter on the market

. 3-10mm diameters available, and 116-260mm length – to suit any client needs.

U-shaped, telescopic, or straight straws

, to match your branding and design.

Fully biodegradable but structurally sound

. Our straws don't deform or go soggy until after 3 hours in liquid.

Manufactured from responsibly sourced paper

, ensuring sustainability from production to disposal.

Technology developed by Tembo's team.

We build the machines behind the straws – including the world's only paper straw machine to produce 3mm-diameter paper straws.
Member of 360° Food Service Charter of Trust
Tembo and its partners joined the 360° Food Service Charter of Trust, ensuring and promoting safe high-quality paper drinking straws in Europe. This initiative helps users, distributors, and customers to identify products that have been safely manufactured according to strict legal requirements.
This Charter of Trust is a commitment to meeting all relevant legal requirements in the EU, thereby ensuring that consumers can enjoy their drinks safely. The initiative was launched when some products in circulation within the EU market did not always comply with European legislation aimed at protecting consumers.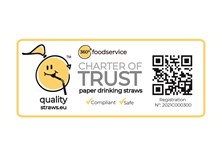 Switch to Paper Straw Production with Tembo Paper
With a paper spiraling machine from Tembo Paper, you can become a paper straw manufacturer in the Netherlands.
Our cutting-edge paper straw machines combine sustainability with optimal production. A precision system ensures that every straw is controlled individually, guaranteeing 100% quality output and ensuring that waste is kept to a minimum. Meanwhile, a small footprint and high automation makes the machine convenient for all production environments.
Disposable plastic straws will soon be restricted across the Netherlands and Europe. Now's the time to upgrade your production line and make the transition to biodegradable paper straws. Let Tembo Paper help.