Based in the Netherlands, we're world-leaders in delivering biodegradable straws wholesale. Yet, we do more than just the straws. By also supplying our unique paper straw-making machines, we empower businesses themselves to become local manufacturers of sustainable paper straws. 
Transform your production line from plastic straws to a compostable and high-quality paper alternative. Or get in touch with us to buy paper straws in bulk directly from Tembo Paper. 
British Attitudes to Plastic Straws are Changing
Consumer attitudes to single-use plastic are changing worldwide. The UK is no exception. A YouGov poll revealed half of UK consumers would pay more to avoid single-use plastic, while over 80% of Brits think businesses are not doing enough to tackle plastic pollution.
With government initiatives in Scotland, Wales, Northern Ireland, and England outlawing single-use plastics in 2021, now's the time to transition from plastic to sustainable paper straws. And at Tembo Paper, our expertise and innovative technology can help you make the change.
Our Wholesale Paper Straws are Different
We are a paper straw manufacturer with a difference. Our innovative methods and quality materials ensure that our wholesale paper straws meet the highest standards. And, by developing the paper spiraling technology behind our machines, we're uniquely placed to adapt to every customer's demands. 
Each straw uses only three paper layers and less than 4% adhesive

. Our straws combine durability, a low environmental footprint, and an optimal user experience.

Our biodegradable paper straws stay firm in liquid for over three hours

. That means no deformed or soggy straws – and no loose ends.

Telescopic, straight, or U-shaped straws

. Our paper straw machine produces straws to a range of shapes and sizes.

A range of lengths and diameter

. We make straws at 3-10mm diameter, and 116-260mm length – to suit your requirements.

Technology developed by Tembo Paper.

We make the straws and the machinery that produce them – including the world's first paper straw machine to achieve paper straws at 3mm diameter.

Fully biodegradable

and manufactured from sustainable paper.
Member of 360° Food Service Charter of Trust
Tembo and its partners joined the 360° Food Service Charter of Trust, ensuring and promoting safe high-quality paper drinking straws in Europe. This initiative helps users, distributors, and customers to identify products that have been safely manufactured according to strict legal requirements.
This Charter of Trust is a commitment to meeting all relevant legal requirements in the EU, thereby ensuring that consumers can enjoy their drinks safely. The initiative was launched when some products in circulation within the EU market did not always comply with European legislation aimed at protecting consumers.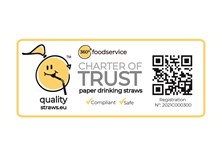 Make the Switch to Paper Straw Production
With Tembo Paper's paper spiraling machines, you can become a paper straw manufacturer in the UK.
Our unique paper straw machines combine a small footprint with high automation. With 100% quality output and precision glue application to every straw, they're also low waste – ensuring sustainability is embedded in the production process. 
Don't get caught out by changing British attitudes to single-use plastics. Upgrade your line and become a local producer of eco-friendly paper straws with Tembo Paper.