One of the positives of the last 12 months has been the obvious shift in attitude towards a demand for sustainability by consumers. 80% no longer want plastics in their products, while more than half of shoppers polled by Accenture say they would pay more for products designed to be reused or recycled.
This welcome new outlook is in sharp contrast to previous decades – when environmentalism was looked upon as a niche pursuit rather than a mainstream cause.
It has taken passionate and driven advocates of change to push us to this point. And while the war on plastic pollution is far from over, a few key battles have been won along the way.
Leading the charge against single-use plastic for the better part of a decade now has been Maria Westerbos, Founder and Director of Plastic Soup Foundation (PSF). 
We spoke with Maria recently about her important work with PSF, the role technology has to play in changing minds and empowering consumers, and why the plastics crisis is far bigger than many of us realise.
"The beginning of the circle; not the end of the pipe."
Plastic Soup Foundation focuses on several key areas regarding the link between plastics and human health. Maria and her colleagues have spearheaded campaigns to highlight the dangers of microplastics, including Ocean Clean Wash (with the goal of reducing synthetic fibre pollution by 80% in the coming years) and Beat the Microbead (preventing microplastics in personal care products from entering the environment and the ocean). 
Meanwhile, their educational activities are winning the hearts and minds of the next generation. 
But perhaps most importantly, in terms of affecting change, PSF has taken industries and governments to task over their approach to plastic. As Maria explains, PSF is determined to keep plastic waste from entering our water and our bodies, and that starts by stopping plastic pollution at the source. 
"We're not trying to simply prevent plastic from entering the ocean," Maria says, "We want to intervene at the beginning of the circle; not the end of the pipe." 
"For example, if we talk about the fashion industry and synthetic fibres, then we want them to stop using those fibres during manufacturing, or find ways to prevent the loss of fibres during washing. And we do that with microplastics in cosmetics, too. It's all about stopping the source."  
Using technology to change behaviors
One innovative way in which PSF has approached this problem has been technology: 
The free

Beat the Microbead

app allows consumers to scan their favourite cosmetics and personal care products to quickly determine if they contain plastic ingredients.

And the

My Little Plastic Footprint

app helps users reduce their plastic consumption by going on a "plastic diet" while suggesting sustainable alternatives.
"Power to the people," as Maria puts it. "It's not about telling an industry 'don't do that anymore'. Of course, we ask them to change their ways – but we also give consumers the ability to make better decisions and hold these industries to account."
This strategy of empowering consumers has helped PSF move the narrative from an oceans problem to a people problem – and a significant public health issue. 
"In January 2019, we started the Plastic Health Coalition to focus on what plastic does to our health. And we found that consumers didn't fully grasp how plastic could end up in our bodies. They'd ask 'where is all this plastic in the ocean coming from?' So now we're helping them to understand that it's coming from our bathrooms, from our clothes, from our trash." 
"When it's clear that our actions are affecting our health and the health of our children, that's when people are most willing to change."
So, is Maria confident that this change will continue?
It's the beginning of an avalanche
"Before we started the Beat the Microbead campaign, no-one had heard of microplastics. Now everyone is researching it. It's the same with plastic and health. Suddenly, all these scientists are reaching out to us, and we're bringing them together, and what you're getting now is an incredible amount of proof."
"It's like throwing one rock down a mountain; soon it becomes an avalanche."
It is Maria's hope that this avalanche of change will sweep all before it. After all, the plastic crisis does not discriminate. Everyone is affected.
"It doesn't matter where you live. The middle of Africa, China, Europe, America, wherever you live; you inhale it, you drink it. It doesn't matter who you are – and money does not protect you."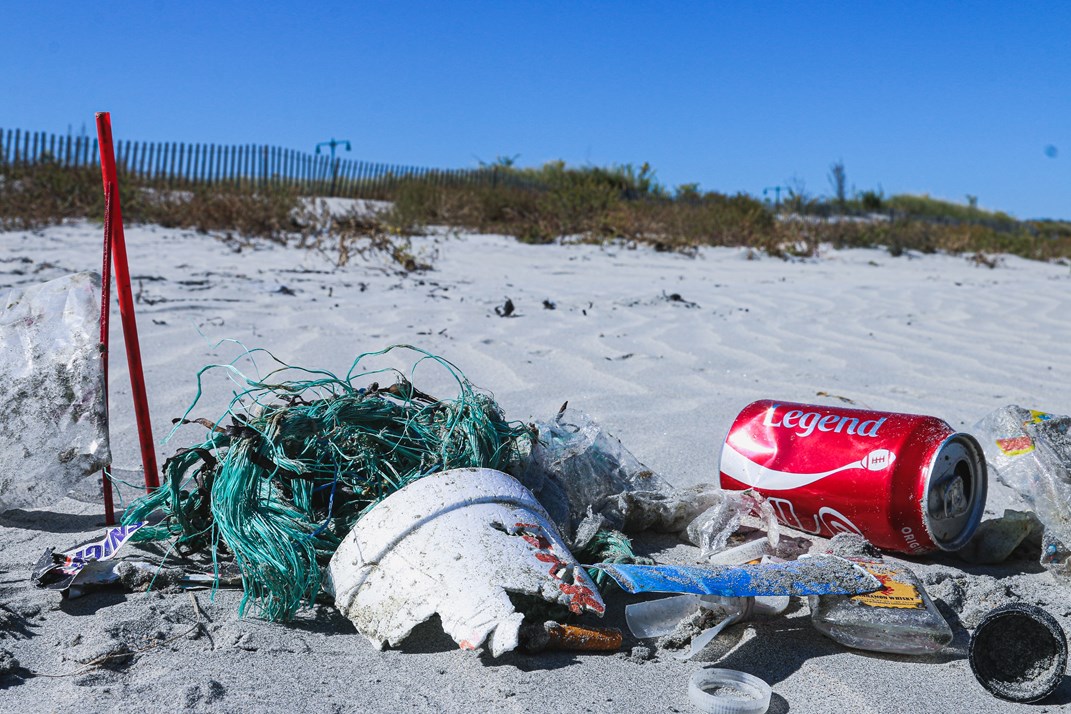 Step-by-step, towards a plastic-free future
Slowly but surely, PSF is getting this message across. And progress has been a step-by-step process. 
A proactive organisation with a media-savvy leader (Maria was a TV producer for many years), they've been in the habit of making news, not just waiting for news to happen. They've enlisted the skills of talented storytellers and have found engaging ways to get their message across.
All of this has translated into real momentum for the organization. 
"I started the Microbead campaign in August 2012. From Holland, it spread to Europe. From Europe, it went to America. From America to Asia, and from Asia to Latin America. And now we're in Africa eight years later."
It's been an incredible journey for Maria and her organization. And moving forward, she explains, PSF will continue to use groundbreaking technology and grounded real-life stories to make waves and encourage change. 
Or, as Maria so eloquently puts it, they'll keep "surfing on the emotions of the world."
A huge thank you to Maria for her time and insight. You can read more about the Plastic Soup Foundation here. 
If you'd like to learn more about our own initiatives, our sustainable paper straws, or our paper straw production line technology, contact Tembo Paper today. 
Photo by Brian Yurasits on Unsplash