Along with the climate emergency, plastic pollution has become one of the most pressing environmental challenges faced by the world today. Before 2020 we were already seeing statistics like 8 million metric tons of plastic entering the ocean each year – but the Covid-19 pandemic has further exacerbated the problem.
An estimated 129 billion face masks and 65 million gloves are being used every month, and while many of these are undoubtedly playing a vital medical role, the stark fact is that these items are contributing to the vast quantity of single-use plastic that is going to landfill – or into our oceans – every day.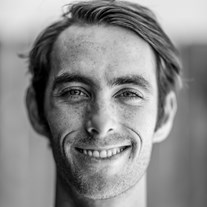 It might be tempting to lose hope when faced by a problem of this magnitude, but for environmental advocates like Cameron Brown of Cleantech Rising, it is an opportunity for change. Cleantech Rising is a not-for-profit advocacy organisation that focuses on supporting the advancement of clean technologies, in order to tackle the greatest environmental issues facing the world today.
We spoke to Cameron about how he and his fellow "climate solutionists" (to use Cameron's own term) are working towards achieving a more sustainable global society.
"We want to provide insight to people who believe solving climate change is both urgent and possible, connect them with like-minded individuals, and empower them (and ourselves) to be a part of the solution," says Cameron.
He explains that Cleantech Rising currently produces educational newsletters and blog articles, and holds regular digital events – all with the aim of teaching and inspiring action in the lives of people who are passionate about protecting the environment.
Note: Cameron's perspective on plastics has been evolving as a result of recent conversations with recycling industry expert Nick Doyle. In many ways, Cameron is echoing Nick's perspective on plastics. They recently hosted an event together on "Waste to Resources and the Circular Economy." Watch the recording to get an industry expert's take and learn more.
Plastic pollution: A Complex Problem
We're all familiar with the powerful images of mountains of plastic waste on landfill sites and swirling masses of plastic debris on the surface of the ocean, and Cameron agrees that the lack of recycling infrastructure is one of the key limitations to addressing plastic pollution. "Shockingly, only 2% of all the plastic we use gets recycled," he says. However, he explains that there is a complex blend of factors which are perpetuating the issue.
Those plastics that are recycled into a new material then command a higher price, and that dissuades businesses from investing in them. "Until we can reach a point where the costs of recycled plastics are equal to or lower than the cost of virgin plastics," says Cameron, "the private sector is going to be reluctant to switch to these more sustainable materials."
He notes that the influence of oil companies also plays a role, as they have a vested interest in new petrochemical-based plastics being produced. But Cameron feels that it is vital we find a solution to our disposable plastic problem soon. 
"While the status quo continues, we're faced with the potential health implications of plastic chemicals leaching into our food and drinks, not to mention the threat to our oceans and marine life from microplastics."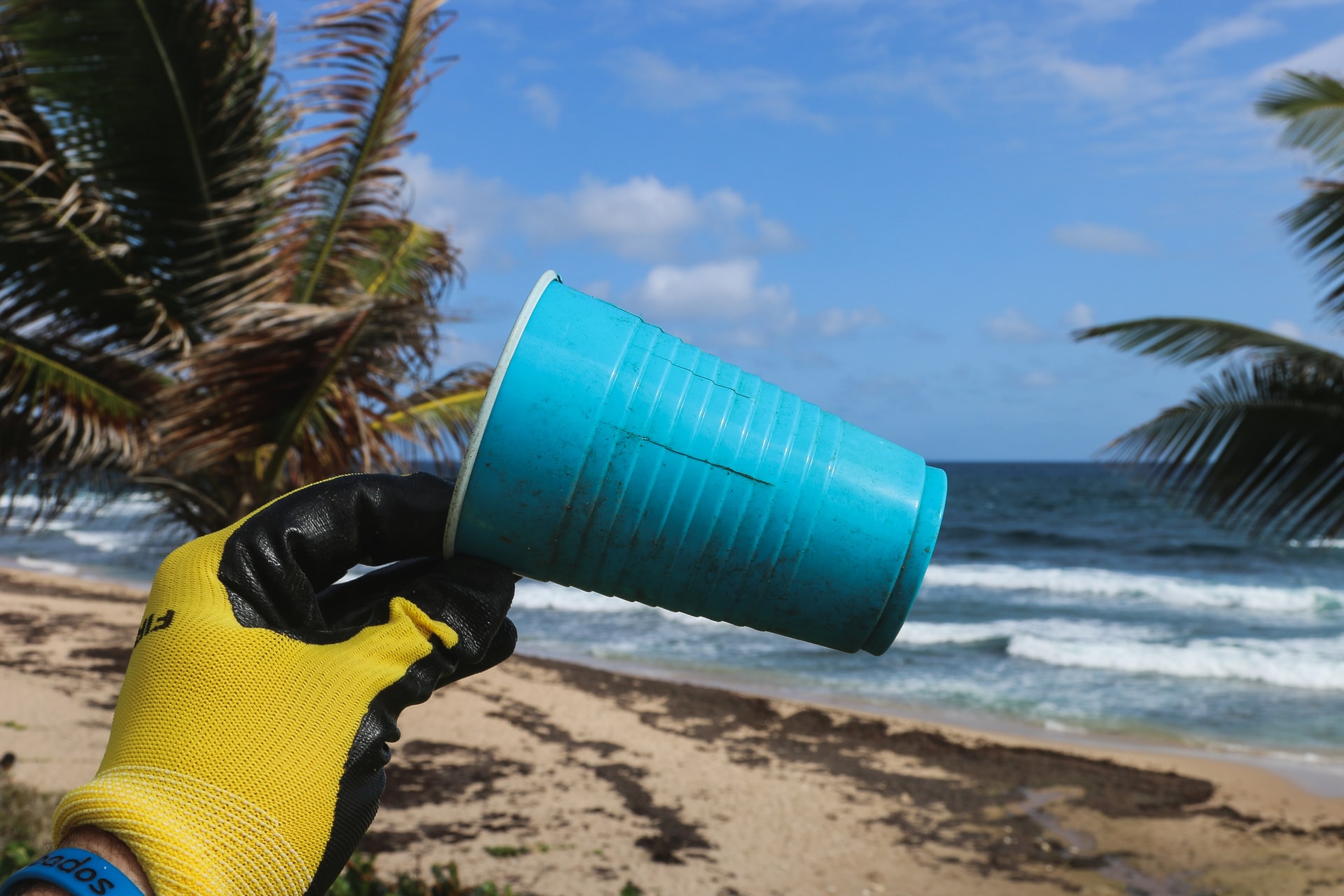 "All materials come with their own challenges"
Cameron explains that his attitude to plastic has changed over time. "I fell into the misconception that policies banning plastic use were the way forward; now, I'm coming to believe that we should focus on ensuring that the plastics we use are recycled or designed to have a circular (as opposed to a linear) lifecycle."
While it may be more sustainable to switch from plastic to another material, such as aluminium, glass, or paper, Cameron says that businesses should think carefully before making a decision. "All materials come with their own challenges," he observes, "and their own carbon footprint." It's important to weigh the tradeoffs involved when choosing which materials to use.
"A four-pronged approach"
In order to tackle the problem of plastic-pollution head on, Cameron believes that a "four-pronged approach" is necessary. In his view, four key groups of stakeholders should work on solving the issue of plastic pollution together.
The first key group is the public. "As individual consumers," Cameron says, "we can educate ourselves on the issue and talk about it through all the channels we have access to in our lives." This could involve chatting to friends and family or sharing on social media. He thinks that the media as a whole have an important role to play, too, as they can "amplify the varying perspectives of experts on the topic."
Second, we have governments. Cameron states that in order for legislators to make policies that will help create solutions to plastic pollution, "they need to be educated on the issues and take into account the many different stakeholders and trade-offs involved." Ideally, these new policies will take us in the direction of a circular economy.
The third group is the private sector. Businesses that produce goods or services that use plastic should "seek to understand how they can develop circular economy practices." They can then try to implement those practices and help to lead the change away from a dependence on disposable plastics. 
Finally, closely related to Cleantech Rising's mission, we have the technology companies. He says that cleantech companies can make a huge difference to the plastic pollution crisis through innovation. New materials, processes, and products can help meet the needs of a growing global population while avoiding waste and using our natural resources more sustainably.
The Most Promising Cleantech Innovations Today
We asked Cameron which cleantech innovations he was most excited about right now. Which solutions could really help us clean up our act with regard to plastics?
"AI-powered optical sorting technology, such as TOMRA, has really improved our ability to sort recyclable materials from waste streams," says Cameron. In his opinion, if this technology is used at scale with the support of other stakeholders then we can truly "make leaps" towards a circular economy – one where plastics are no longer simply destined for landfill.
Cameron also highlights the innovations taking place in the realm of bioplastics – materials produced from renewable biomass sources. "Newlight Technologies, for example, has created a bioplastic that's made from air and methane, making it biodegradable. If it ends up in the soil or the ocean, it actually adds nutrients – so it's bio-beneficial."
"Listen to the leaders in the circular economy movement"
So if you're looking to educate yourself on the issues surrounding plastic pollution, where should you turn for information? Cameron's colleague Nick Doyle recommends that we "listen to the leaders in the circular economy movement. The Ellen MacArthur Foundation, for instance, is a great place to learn about this subject."
For learning more about the impacts of plastic pollution on the ocean in particular, Cameron suggests engaging with an organisation like the Surfrider Foundation, which has been campaigning for clean, accessible beaches for over thirty years. 
Cleantech Rising's newsletter and blog is also a valuable source of information on the plastic pollution crisis and how technology can help us solve it. "In the coming years," says Cameron, "we'll be seeking to expand our reach and develop ways to have a more tangible and measurable impact."
Aiming for a cleaner future, Cameron and his fellow climate solutionists at Cleantech Rising will continue to educate and connect people who are passionate about finding solutions to environmental issues.
We'd like to thank Cameron Brown for taking the time to speak to us and share his vision. You can learn more about Cleantech Rising here.
If you'd like to discover more about how we're doing our bit to tackle plastic pollution, with our biodegradable paper straws, contact Tembo Paper today.
Photo by Brian Yurasits on Unsplash
Photo by Elena Mozhvilo on Unsplash